If you are using Internet Explorer as your web browser, please open the site in either Google Chrome or Safari. Not all editing functions are available if you use IE.
1. From the Homepage of the site, navigate to the page you wish to edit.
2. Click on the Edit tab to put the page into edit mode.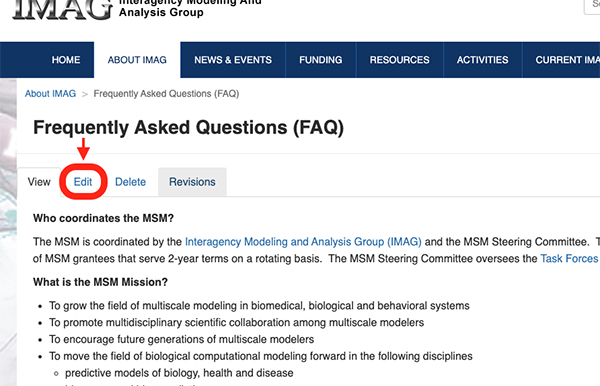 3. Scroll down to the text you wish to edit. As an example, we'll change this bulleted list into a numbered list.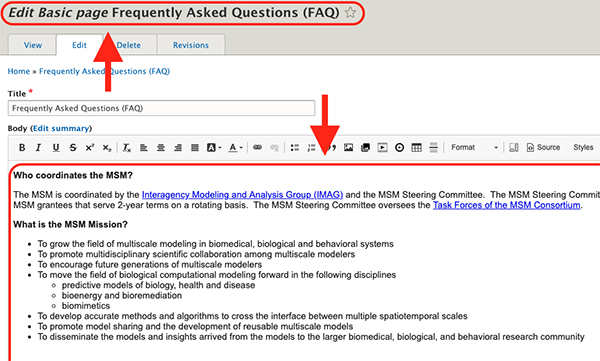 a. To create a numbered list, highlight the text you want to number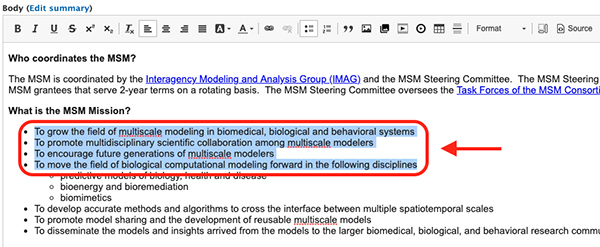 b. Click on the numbered list button, and the highlighted text will changed to a numbered list.
4. After you have completed your changes, check the right section of body or scroll to the bottom of the screen and add a short note in the Revision log message regarding the changes you made.

5. You can either Save, Preview, or Delete.
* You must check the published check box if you want to publish the content.
       a. Save = save the changes you have made to the page in a new Draft version.
       b. Preview = see what the page will look like after the changes are published.
       c. Delete = delete the content and page.

Table sorting checkbox
Off