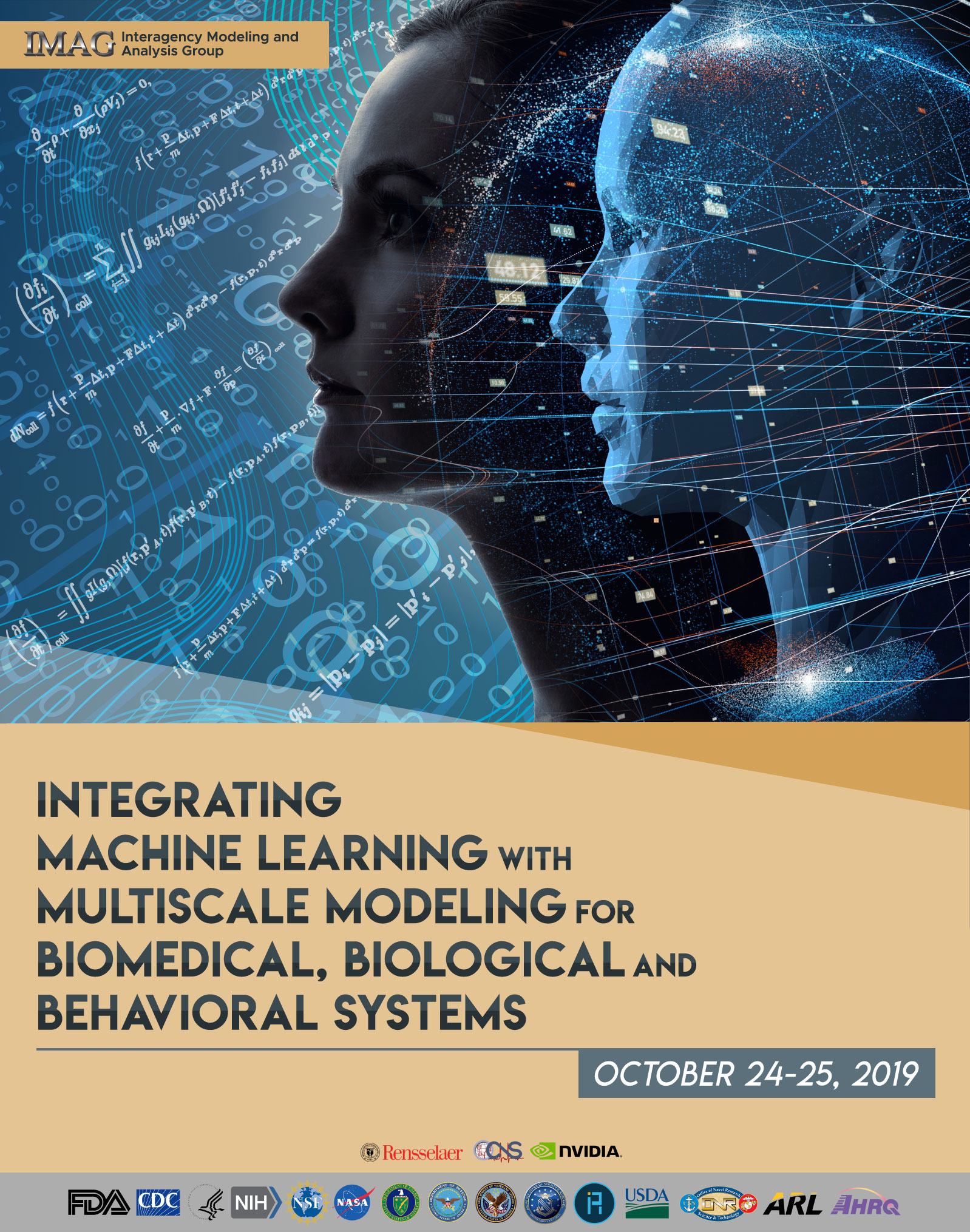 Integrating Machine Learning with Multiscale Modeling for Biomedical, Biological, and Behavioral Systems,
co-chairs:  Ellen Kuhl, Suvranu De
Goals: this meeting focuses on integrating machine learning methods with multiscale modeling methods guided by the fundamental principles of mathematics and physics.
Objectives: to identify the perspectives, challenges, and opportunities of integrating machine learning with multiscale modeling (ML-MSM) in biomedical, biological, and behavioral systems.
Four methodologies for ML-MSM modeling: ordinary differential equation (ODE), partial differential equation (PDE), theory-driven, and purely data-driven approaches
Two application contexts: Digital Twins and Human Safety
2019 ML-MSM Meeting, October 24-25, 2019, Bethesda, Maryland (NIH Campus)
October 1, 2019  - Last day to register online
Participate in pre-meeting activities - Background Information - Pre-Meeting Webinars 10/1-10/11
Event Location
NIH Main Campus
Natcher Auditorium
Logistics
Meeting Venue
This meeting will be held in the William H. Natcher Building / Building 45 on the NIH main campus in Bethesda, MD.
Room: Ruth L. Kirschstein Auditorium (presentations); Atrium (posters)
Please allow and extra 30 minutes to get to the NIH main campus and to get through security at the NIH Gateway Center Entrance.
You will need to obtain a visitors badge, so please bring a government-issued photo ID. Walk directly from the Gateway Center (bldg 66) to Natcher (bldg 45) - see yellow highlight on
NIH Campus Access Resources, https://security.nih.gov/Pages/Home.aspx
Hotel Information
The 2019 MSM room block for the Hyatt Regency Bethesda is located here, https://www.hyatt.com/en-US/group-booking/BETHE/G-IMA2.
Room block reservation deadline is on October 2, 2019.
Alternatively, you are welcome to reserve a room at the Hyatt at a non-discounted rate or reserve a room at other local hotels such as the Bethesda Marriott, The Double Tree by Hilton Hotel Bethesda, the American Inn of Bethesda, or the Hilton Garden Inn of Bethesda
The Hyatt Regency Bethesda is located next to the Bethesda Metro Station on the Metro Red Line. The IMAG meeting venue at the NIH Main Campus is one metro stop (Medical Center Metro Station on the Red Line) or a 15 minute walk away. Click here for a map of the DC metro system.
Meal Information
Lunch: You may either purchase your lunch from the Natcher Conference Center Cafeteria or you can pre-order a lunch box delivered to the conference venue - WE HIGHLY RECOMMEND YOU PRE-ORDER TO AVOID THE LINES. All orders must be received by 4 pm EDT on Tuesday October 22nd. Lunch will be delivered to the Natcher Building Auditorium October 24-25, 2019 on Thursday at 11:30am and Friday at 11:30am. We highly recommend that participants pre-order and pre-pay for a box lunch so that there is ample time for discussion and networking. Please follow the instructions here. 
       Orders must be received by 4pm EDT Tuesday, October 22, 2019.
GROUP Dinner on Day 1: October 24, 2019, 6:00pm
Dinner registrants will be assigned to a dinner seat at Shangri-La Indian and Nepaalese Cuisine.
or be placed on a waiting list.
Seats are limited.  If you can no longer attend the dinner please update your dinner information in the registration by clicking your username on the top right of the page.
The fixed price menu is $30 and includes one meal per person and tax and tip. Please bring cash, if possible  (1 drink is included at Shangri-La)
If you're looking for alternate food options, click here for a detailed list of all the restaurants in the Bethesda, MD area
**Please note that refreshments will NOT be provided at the meeting. You can buy snacks or lunch at the Natcher cafeteria, which is open from 6:30AM to 2:30PM, and the Natcher concession stand, open from 7AM to 3:30PM. 
Posters
Posters should be at most 4 ft x 4 ft in size.