The course will be offered Live Virtual, featuring an amazing immersive and interactive experience that allows everyone to learn something new, engage in collaborative networking and projects, and spend a week immersed in materials design.
Location: MIT Live Virtual (featuring interactive lectures, labs, and networking)
Dates: June 1-5, 2020
Watch this video about the course: https://youtu.be/pCiCBBmHBMY    
The course will be taught to be accessible for a broad audience with diverse backgrounds. No prerequisites. Participants will earn an MIT certificate.
Registration is  open at http://professional.mit.edu/programs/short-programs/multiscale-materials-design. Participants will receive an MIT certificate following the one-week course.
ABOUT THE COURSE:  A one-week boot camp, to learn the basics of multiscale modeling, AI/ML, additive manufacturing and materials design, with lab sessions and a strong focus on real-world applications. New this year, lectures about machine learning and artificial intelligence in materials design, expanded lab sessions to cover multiple 3D printing methods, and hands-on ML/AI computer labs.  
Computational methods including AI is revolutionizing the materials design world. Today, an engineer or scientist can simply enter the desired properties into a program and the system will manufacture a microstructure that matches the specifications.  Algorithms predict which chemical building blocks can be combined to create advanced materials with superior functions — from ultra-strong, lightweight materials used in the automotive, construction and aerospace industries, to biomaterials used in implants and biomedical devices with the ability to self-heal and regenerate. The goal of this new approach is to construct, in a bottom-up manner, atomically-precise products through the use of molecular design and manufacturing, allowing the fabrication a vast array of designs.
Participants will immerse themselves in interactive lectures, labs and networking with other participants. 
http://professional.mit.edu/programs/short-programs/multiscale-materials-design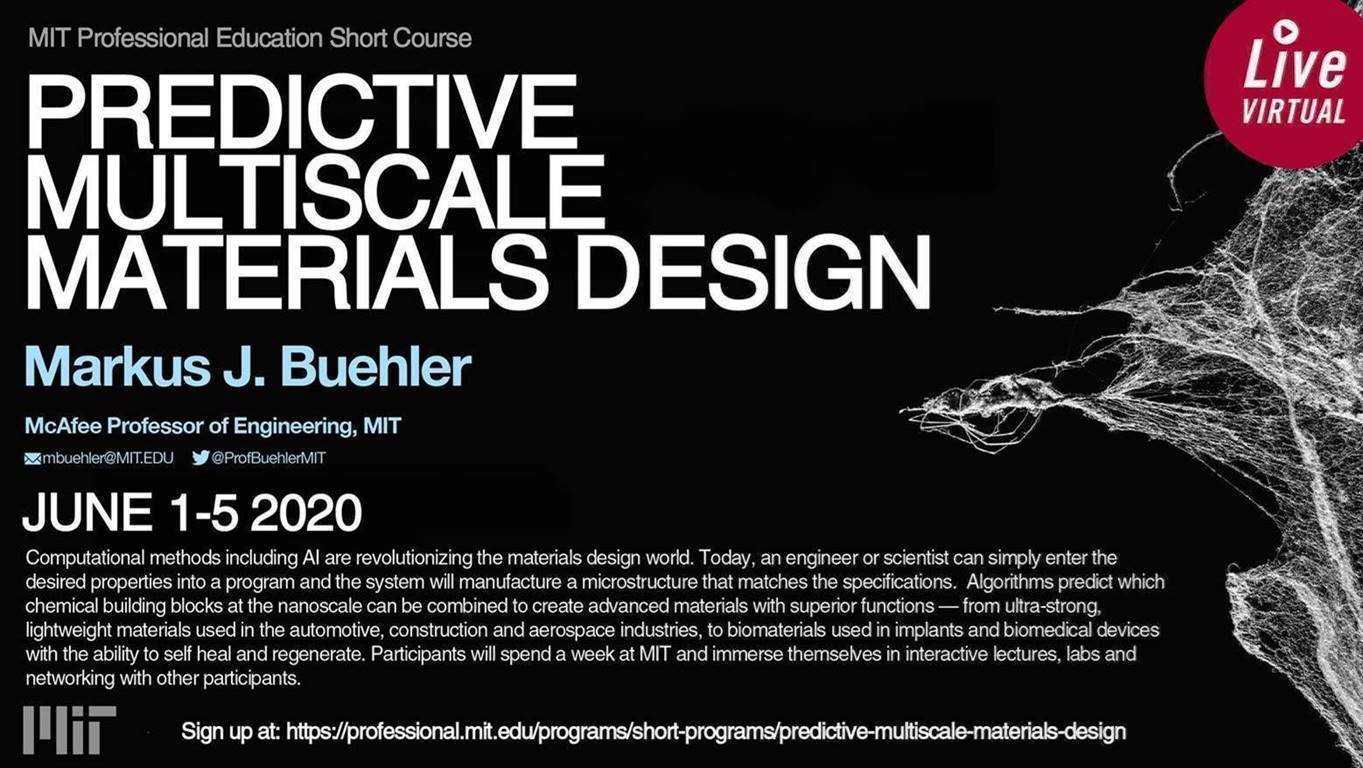 Meeting Location
Live Virtual
Table sorting checkbox
Off