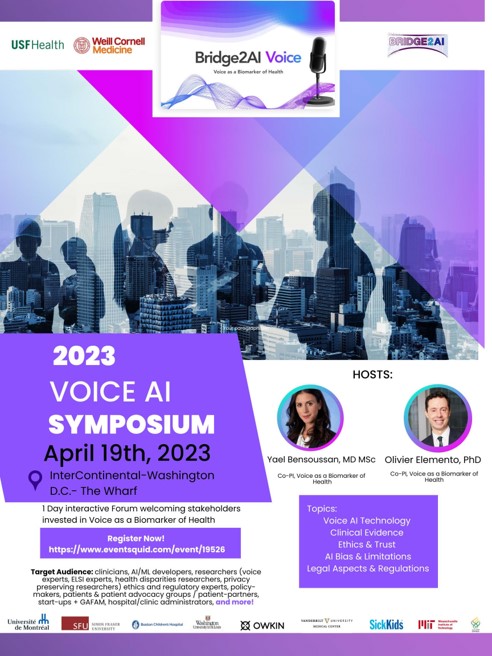 The Bridge2AI-Voice Consortium group is hosting its first ever in-person stakeholder symposium on April 19, 2023
The Voice AI Symposium – Voice as a Biomarker of Health - is a 1-day interactive event presented by the Bridge2AI-Voice consortium. It is a unique opportunity to connect with stakeholders invested in voice biomarkers including industry, startups, academia, researchers, patients, patient advocacy groups and underserved/underrepresented communities where everyone will have "their voices heard". 
Unlike traditional conferences in which participants sit through a line-up of talks pertaining to specific research, this interactive symposium will gather key stakeholders to discuss topics related to Voice AI research including clinical evidence and technology, applications for health tech and healthcare, ethics and legal implications and trust in AI solutions through panels and interactive forums.  
Voice biomarkers are gaining a mounting interest in academia, tech and pharma and come with fascinating and difficult ethical and legal questions that remain unanswered.  Come have a seat at the table, have your voice heard, and interact with experts in the field! 
Registration is now open and linked below:
https://www.eventsquid.com/event/19526
There is also a Poster Competition submissions are open for this as well, please share with anyone you know who may be interested in displaying a poster for one of our four topics/questions. Link for post submission below: 
Meeting Location
Hotel InterContinental, Washington DC
Table sorting checkbox
Off