Simple compartmental model including soluble gas transport in the alveoli, transfer between the bronchial circulation and the conducting airways, and metabolism.
Description

  This is a simple model of the pulmonary system where the lung is subdivided into 
  compartments representing air spaces: dead space, peripheral bronchial tract, and 
  the alveolar space; blood volumes: upper airway mucus, pulmonary capillary, systemic 
  blood flow; and tissue space: whole body excluding the lungs. The upper airway mucus 
  layer resides along the peripheral bronchial tract and has a continuous blood flow 
  QM which effectively communicates with the gas in the bronchial tract.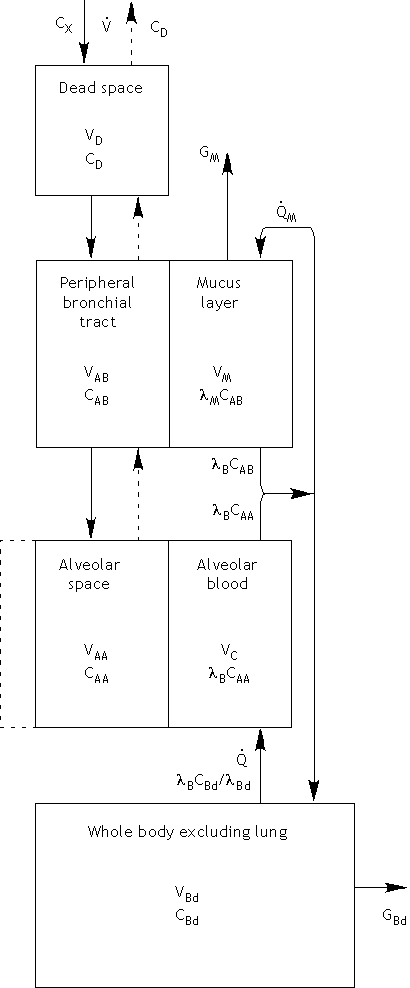 Equations
The alveolar compartment changes volume with ventilation. Prior to steady state, the lung undergoes tidal breathing, represented by a sinusoid


After a pre-determined number of breaths, a secondary maneuver is performed: prolonged exhale or rebreathing. For a prolonged exhalation maneuver, the lungs are brought quickly to total lung capacity (TLC), then drained at a constant rate to the residual volume (RV).

In a rebreathing maneuver, an external bag is attached and the subjects breaths a number of breaths, generally 8, directly into and out of a bag.

Compartmental Definitions The following compartments use conservation of mass equations to follow the concentration of the soluble gas tracer.

Peripheral Bronchial Compartment




Download JSim model project file
Download JSim model MML code (text):
Download translated SBML version of model (if available):
Model Feedback
We welcome comments and feedback for this model. Please use the button below to send comments:
References

  Kumagai S, and Matsunaga I. A lung model describing uptake of organic solvents and 
  roles of mucosal blood flow and metabolism in the bronchioles. Inhal Toxicol 12: 491-510, 2000. 	


Key terms
solvent
water-soluble
partition coefficient
blood-soluble
compartment
pharmacokinetic
uptake
Publication
Respiratory system
Air-blood gas exchange
Data
Acknowledgements
Please cite https://www.imagwiki.nibib.nih.gov/physiome in any publication for which this software is used and send one reprint to the address given below:
The National Simulation Resource, Director J. B. Bassingthwaighte, Department of Bioengineering, University of Washington, Seattle WA 98195-5061.
Model development and archiving support at https://www.imagwiki.nibib.nih.gov/physiome provided by the following grants: NIH U01HL122199 Analyzing the Cardiac Power Grid, 09/15/2015 - 05/31/2020, NIH/NIBIB BE08407 Software Integration, JSim and SBW 6/1/09-5/31/13; NIH/NHLBI T15 HL88516-01 Modeling for Heart, Lung and Blood: From Cell to Organ, 4/1/07-3/31/11; NSF BES-0506477 Adaptive Multi-Scale Model Simulation, 8/15/05-7/31/08; NIH/NHLBI R01 HL073598 Core 3: 3D Imaging and Computer Modeling of the Respiratory Tract, 9/1/04-8/31/09; as well as prior support from NIH/NCRR P41 RR01243 Simulation Resource in Circulatory Mass Transport and Exchange, 12/1/1980-11/30/01 and NIH/NIBIB R01 EB001973 JSim: A Simulation Analysis Platform, 3/1/02-2/28/07.