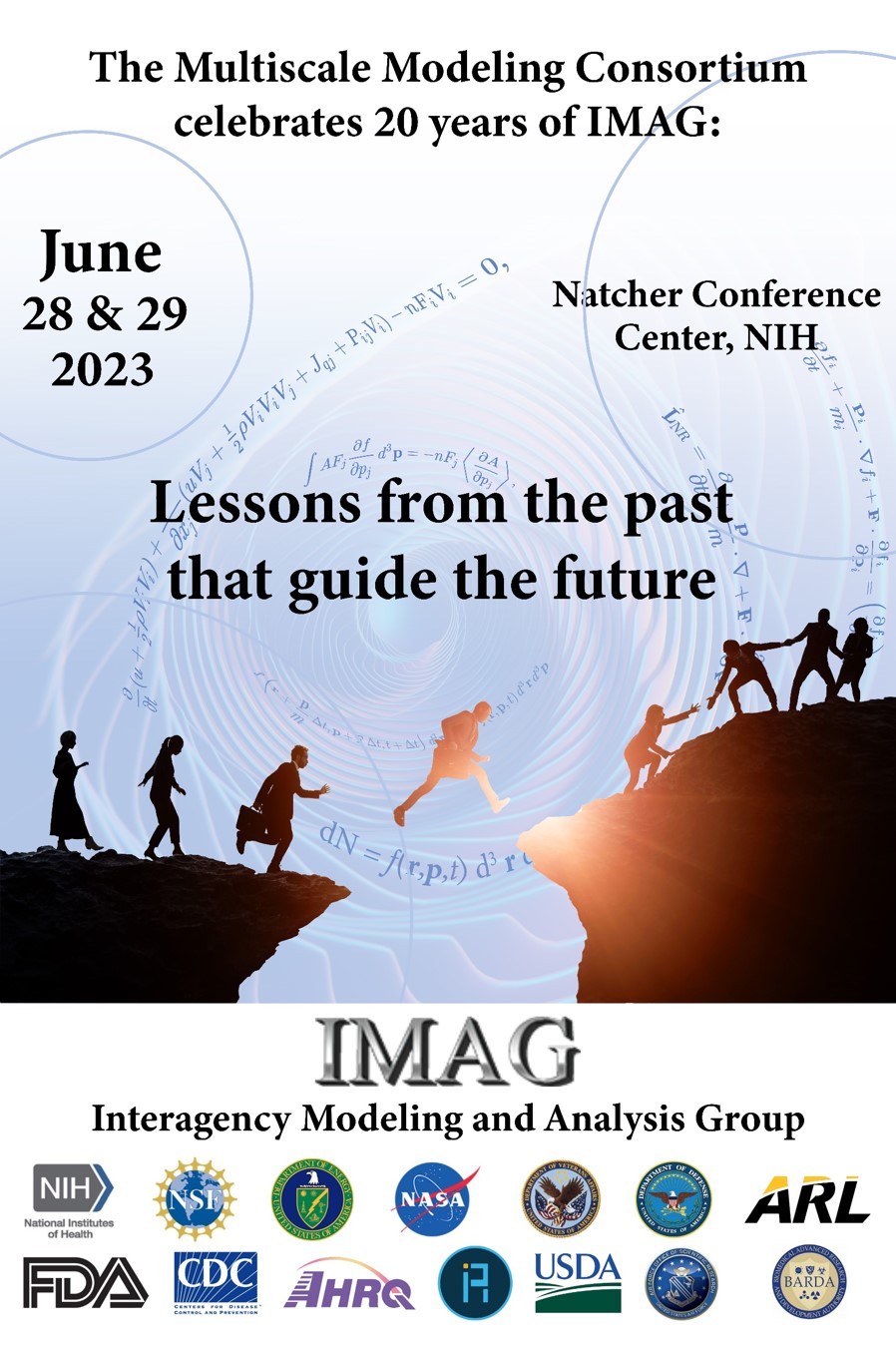 Thank you for helping us celebrate 20 years of IMAG!
Interactive AGENDA - login and post you comments in the session pages!
Attendees (list and group picture)
•
See what IMAG has accomplished in its 20-year history and what lessons can be gleaned from the
Early Awardees of the MSM Consortium
!
•See 
the
Early-Career Investigator Forum
– mentor match pages, meet IMAG program staff, present posters, and network with other multiscale modelers.
•
The Future of Multi-Scale Modeling -
Breakout Sessions:
•
Digital Twins:
whole person, mental health models
•
New Mechanistic-ML Methods:
PINN, transformer, XAI, Large Language models
•
Sociobehavioral
and Social Determinant of Health (SDoH) models:
network, probabilistic, stochastic models
•
Quantum computing and other technologies for modeling:
quantum sensors, neuromorphic chips. emerging compute capabilities
•
Translation and Incentivization:
regulatory models, models for medical device development
Hosted by the Interagency Modeling and Analysis Group (IMAG) and the Multiscale Modeling (MSM) Consortium
MSM Organizers: Jason Haugh, Denise Kirschner, Bruce Y. Lee, Herbert Sauro
Event Location
NIH Campus, Natcher Conference Center, Bethesda MD
This meeting will be held in the William H. Natcher Building / Building 45 on the NIH main campus in Bethesda, MD.
Room: Ruth L. Kirschstein Auditorium (presentations); Atrium (posters)
VISITOR ACCESS Instructions:
Please allow an extra 30-45 minutes after you arrive at the NIH main campus to get through security at the NIH Gateway Center Entrance.
You will need to obtain a visitor badge, so please bring a government-issued photo ID. Walk directly from the Gateway Center (bldg 66) to Natcher (bldg 45) - see yellow highlight on nih_visitors_map_3.pdf79.01 KB
How to Access the NIH Campus & Natcher Conference Center
NIH Campus Access Resources, https://security.nih.gov/Pages/Home.aspx
Foreign Visitor Data Request Form - Pre-approval for foreign visitors from countries designated as State Sponsors of Terrorism

All meeting attendees use laptops, small electronic devices, and other handheld materials during the meeting.  Due to the large volume of attendees expected we will not have the physical space to accommodate any larger equipment in the poster presentation area.

Attendees may store their luggage - please check with the staff at the registration table for more information.
Lunch
The Natcher Building cafeteria and general store are closed.  We strongly encourage you to order a boxed lunch. Lunch will be delivered each day by the designated lunch time, so you can comfortably participate fully at the meeting.  Please follow the instructions found on this page: https://www.imagwiki.nibib.nih.gov/Lunch. You must purchase your lunch by 4:00pm ET on Monday, June 26, 2023.
---
Hotels & Lodging
A room block is available at The Bethesdan Hotel, 8120 Wisconsin Avenue Bethesda, Maryland 20814-3624. This hotel is a mile from Medical Center Metro station at NIH and is a 13-minute walk – or take the free shuttle.  To get the discounted rate you must use this Booking Link.
Or, you can find a list of other nearby hotels here:  https://www.cc.nih.gov/about/visitor/hotels.html  
Logistics
Registration is free - online registration is now closed.
We ask all attendees to use the IMAG wiki during the meeting - Click here to request an IMAG login
Note: All Early Career Investigators will participate in the Early Career Investigator Forum on June 28th.
To participate in the meeting

Look for the "Current IMAG Meeting" tab in your navigation bar appear (after you login)
All meeting activities are located in this tab (login first!)
---
The IMAG wiki will be used interactively during the meeting!
Existing IMAG wiki users are encouraged to continue to post information on the wiki.
New IMAG wiki users will be emailed login information to use the IMAG wiki to:

submit meeting materials
comment on the Interactive Agenda (accessible through IMAG wiki login)

All Attendees: Please save your IMAG wiki username and password for quick access during the meeting!
After login, attendees will have access to the CURRENT IMAG MEETING PAGES (tab will appear at the top navigation bar) -- please use these pages during the meeting!
---
Dates:
May 8th  - Travel Award applications received on May 8th will receive full consideration.  Applications received after May 8th may be considered, pending availability of funds.  Awards will be notified on May 15th. 
June 1st - Last day to register online and request to submit a poster abstract - Click here for registration
June 2nd - Last day to submit poster abstract for consideration -  Click here to Submit Abstract (after logging into the IMAG wiki)
New IMAG wiki users will be emailed IMAG wiki login information after registration is complete
June 10th - Last day to be informed of poster abstract acceptance
June 10th - Last day to be informed of poster abstract acceptance
June 20th - final abstract titles and final posters (PDFs) due - Click here to Submit Materials  (after logging into the IMAG wiki)
June 20th - Last day to register online - Click here to request an IMAG wiki login for registration
After June 20th - You may still register in-person at the meeting, but you will not have a pre-printed badge
June 26th 4pm ET - Last Day to order lunch - Click here to Order
June 28th - Day 1 of meeting - Early Investigator Forum
June 29th - Day 2 of meeting - Planning the Future
---
 Meeting Material Submission Instructions:
To submit Poster Abstract and Final Posters (in PDF format) please Login to the IMAG wiki first!
Note: You are responsible for printing your own poster. Remember, you have a 6'Wx4'H space to work with. If you need to print your poster once you've arrived in Bethesda, we suggest Metro Printing, which is by the Bethesda Metro station: https://www.metroprinting.biz/
---